THE NEW BOOK.
ASTROLOGY:
THE PROOF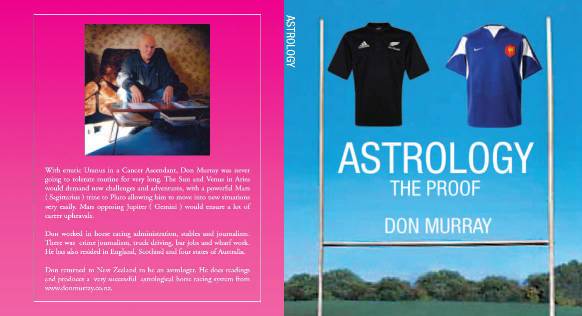 To order copies of this book,
send $35( NZ )
to Box 22 063, Otahuhu, Auckland
for a copy call +64 9 276 1578 or email murraydon42@gmail.com
to inquire about bank transfers or international shipments.
For Australian orders, send $37 to include postage.
ASTROLOGY: THE PROOF

They stumble through life wondering.

Why did we lose in that dodgy finance company?
Why did we get married?
Why I am getting depressed?
Why are my children using hard drugs?

ASTROLOGY: THE PROOF demonstrates why our lives are predetermined from birth.

There is indisputable proof via cuttings accurate predictions published in
various newspapers on many of the legends listed below.

Fascinating tales around the Rugby World Cup and a winning coach for 2019.Dialogue with coaching legends like Robbie Deans and Graham Henry.

With conclusive proof that there are certainties in horse racing.

And advice on coping with the Greater Depression between 2012 and 2015.


33 Chapters, 164 pages

Intro

Graham Henry

Jonny Wilkinson

Laurie Mains

John Hart

John Mitchell

Jonah Lomu

Sir Robert Muldoon

Prince Charles and Diana

Wayne Bennett, Matthew Ridge and some incredible
rugby league predictions

Michael Jackson

Certainties in Horse Racing

Lisa Cropp
Charlotte Dawson

Eric Watson

Brent Todd

The Proof of the Pudding

Stephen Fleming

Glenn Turner

Dean Barker and Bertarelli-Butterworth

Millie Holmes

A guide to substance abusers

2011 Rugby World Cup prediction

2007 Springboks

Song called "William Webb Ellis Blues"

Paul Holmes and Robbie Deans

Bad attitude media

The Psychic Sister Rose scam

Tiger Woods

Sean Sullivan

Pluto Always Brings Great Change

Working for the Nation

Preparing for the Greater Depression


Other people included in ASTROLOGY: The Proof

Affleck, Ben
Autridge,Stephen
Ali,Muhammed

Bin Laden,Osama
Beckham,Victoria
Boss,Glen
Bertelli,Patrizio
Barker,Mandy
Billings,Greg
Binding, Carly
Beckham,David
Bailey,Bob
Bellamy,Craig
Blackmore,Ritchie
Beatty,Warren
Ballantyne,Linda
Burton,Sir Richard
Bickerstaff,Tim
Bono
Brooke,Robin
Barnes,Wayne
Brown,Jacqui
Bunce,Frank

Carter,Tim
Carter,Dan
Chamberlain,Wilt
Clinton,Bill
Crocker,Mick
Cronk,Cooper
Conner,Tara
Connors,Raymond
Cummings,Bart
Clark,Terry
Crowe,Martin
Cassidy,Jim
Coutts,Russell
Carey,Wayne
Collins,Joan
Campbell,Naomi
Castle-Hughes,Keisha
Christie,Julie
Childs,Greg
Clinton,Hillary
Chong,Annabel.


Deaker,Murray
Devlin,Martin
Douglas,Tim
Dye,Shane
De Angelis,Francesco
Donaldson,Michael.

Evans,Nick
Ellis,David
Evan-Charlton,Tuipoloa
Ellison,Larry
Elder,Hinemoa
Ellis,Marc.

Farmer,Don
Folau,Israel
Freeman,Gary
Fleming,Stephen
Fay,Sir Michael
Frazier,Joe
Foreman,George

Golightly,Doug
Gilbert,Tony
Geyer,Matt
Gregan,George


Harrigan,Bill
Hinton,Roger
Hoppe,Sean
Hanley,Nathan
Hotchin,Mark
Holmes,Deborah
Hollander,Xaviera
Hutchence,Michael
Hurley,Liz
Hitler,Adolf
Hanley,Ellery
Hussein,Saddam.

Inglis,Greg.

Jameson,Jenna
Jagger,Mick
Jamieson,David
Johns,Andrew
James,Butch.

Kereopa,Dane
Kapa,Richard
Kearney,Stephen
Knowles,Beyonce
Kelt,Sam
Kirwan,John

Lange,David
Lewinsky,Monica
Loos,Rebecca
Langer,Alan
Lomu,Semisi
Lomu,Hepi
Leary,Edward Poulter
Lovett,Bob
Ledger,Heath
Loe,Richard
Lauaki,Sione
Le Fleming-Burrow Sheri


McAnulty,Robert
Mahoney,Jim
Morrison,Jim
Molloy,Leo
Malik,Shoaib
Mundine,Anthony
McKenzie,Bryan
McCaw,Ritchie
McCracken,Jarrod
McCallion,Mac
Marley,Bob
Manson,Charles
Meninga,Mal
Monie,John
Musgrove,Eric
McDonald,Brett
Montgomery,Percy
Murray,Waylon
McEnroe,John.

Ngamu,Gene
Nobilo,Keita
Nicholson,Jack
Navratilova,Martina

Parker-Bowles,Camilla
Poland,Owen
Piggott,Lester
Peters,Winston
Peake,David.

Quirk,Nadene.

Ralston,Bill
Rutter,Tanya
Ridge,Sally
Ridge,Sallie
Rutherford,Ken
Read,Chopper
Rossouw,Danie
Rattue,Chris
Russell,Derek
Richards,Keith
Richie,Nicole.

Silva,Rod
Simon,George
Stewart,Gary
Saunders,Bridget
Stewart,Rod
Smith,Wayne
Smith,Jeremy
Smith,Cameron
Stace,Teina
Slater,Billy
Shipley,Jenny
Starr,Antony
Springsteen,Buce
Skinstad,Bobby
Sanders,Reid.

Taylor,Fiona
Taylor,Elizabeth
Todd,Mark
Todd,Wendy
Tyson,Mike
Turner,Glenn
Tatupu,Tony.
Tiley Nigel

Veitch,Tony.

Watson,Nicky
Williams,Robbie
Waring,Marilyn
Woods,Elin
Woods,Sam
Woods,Charlie
Williams,Carl
White,Jake
Williams,Serena.

Young,Neil
Yates,Paula
Young,Eric.
FOLLOW ME:
CONTACTS
Phone: +64 9 276 1578
Email: murraydon42@gmail.com